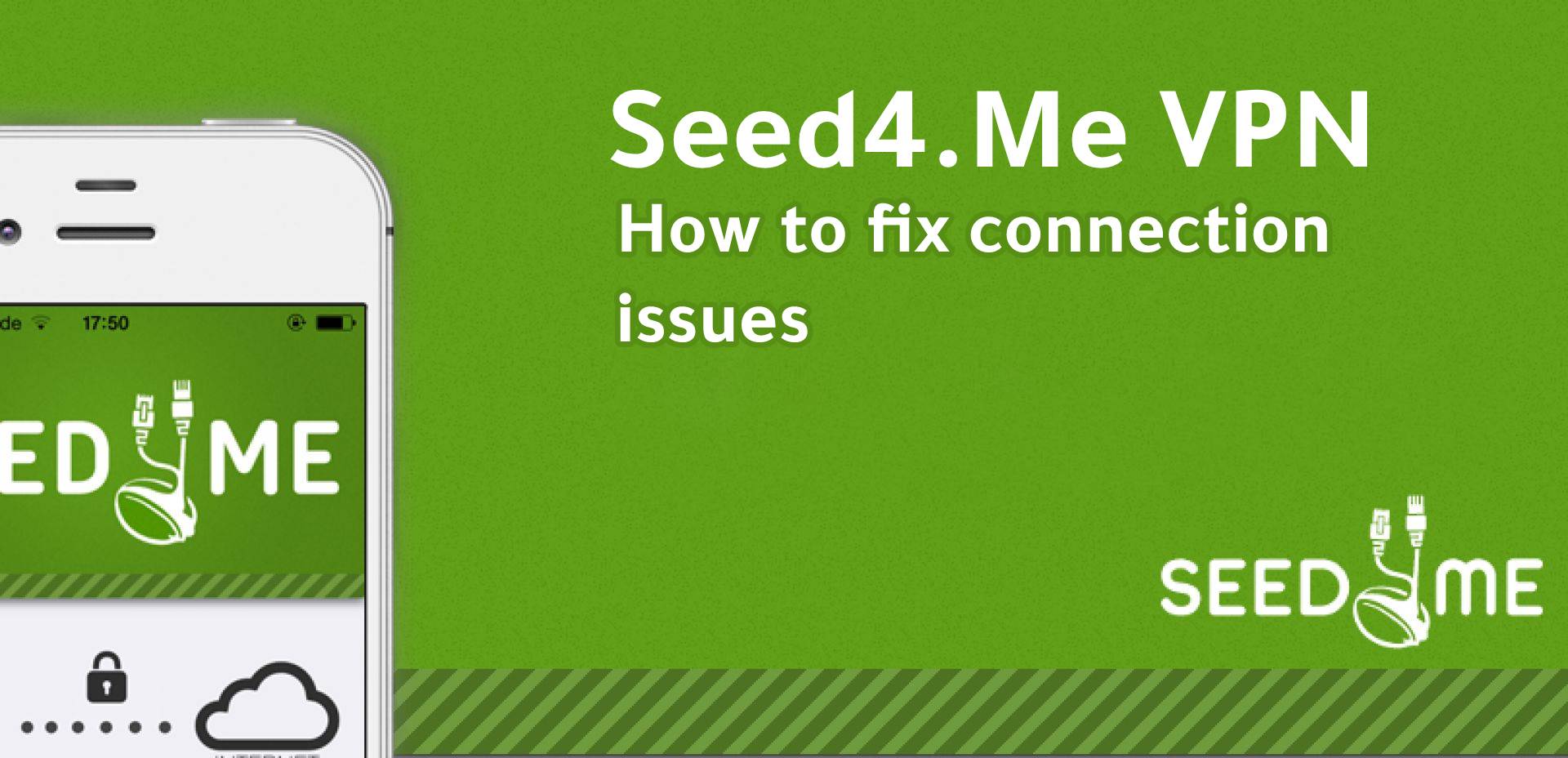 Seed4.Me VPN application has become a popular tool to secure browsing and accessing online content from anywhere in the world and on all your devices (iPhone, iPad, macOS, Android, windows). If you're using Seed4.Me VPN app on your device and you experiencing connection issues. In this article, we will explore some of the most common reasons why you can't connect and how to fix them.
1. Internet Connectivity Issues
The most common reason why you can't connect to a VPN is an issue with your internet connectivity. If your internet connection is weak, unstable, or disconnected, Seed4.Me VPN client will not be able to establish a connection. Please, check your internet connection and make sure it is stable before attempting to connect to a VPN via Seed4.Me client.
2. Firewall or Antivirus Interference
Firewalls and antivirus software can sometimes block VPN connections, particularly if they are configured to block all incoming connections. To fix this issue, you may need to add Seed4.Me VPN application to your firewall or antivirus software's exception list. You can temporarily disable your Firewalls and antivirus software to confirm it is the reason.
3. A Specific VPN Server/Location is Down
Sometimes, some of Seed4.Me VPN servers can experience downtime or technical issues. When this happens, you won't be able to connect to that server. try switching between other VPN locations and check if you can connect to other servers.
If you can connect to other locations, try contacting Seed4.Me VPN support to let them know that a server is down.
4. VPN Credentials are incorrect!
If you've recently changed your password and have not updated them on your device, you will not be able to connect to the VPN. Ensure that you have entered the correct username (Email address) and password, and if not, update them.
You can make sure that you're using the correct credentials by trying to log in on the website (seed4.me), and if you forgot your password, simply request a new one here: https://seed4.me/users/resetPassword
5. Outdated VPN Application – Update Seed4.Me VPN App
Older versions of Seed4.Me VPN application can sometimes have compatibility issues with newer operating systems, resulting in connection issues. Ensure that your VPN application is up-to-date and compatible with your device's operating system.
6. Maybe the issue is in the app's cache files?
Sometimes, it happens that the problem is stored in the cache files, in this case you may have to reinstall Seed4.Me VPN Application if you're using Android/iPhone/iPad, or close Seed4.me VPN client and follow these steps to remove cache files on macOS/Windows:
macOS:
Press keys "Windows"+"R" (Or press Start, open "Windows System" folder and select "Run")
Paste Folder's path below in the field and press "OK".: %LocalAppData%\Seed4Me
Delete all files in the "Seed4Me" folder.
Open Seed4.Me VPN client and try connecting to VPN again.
Windows:
Open Desktop, click on "Go" tab in the menu bar (top of the screen) and select "Go to Folder…"
Paste Folder's path below in the field: "~/Library/Preferences/Seed4Me" and press "GO".
Delete all files in the "Seed4Me" folder.
Open Seed4.Me VPN client and try connecting to VPN again.
7. VPN Blocked by Your ISP – Try Shadow Mode
In some countries such as China,  Iran, Turkmenistan, Russia… ISPs may block VPN connections to prevent users from accessing certain websites or services. If you suspect that your ISP is blocking your VPN, try connecting to a different server and try to enable Shadow Mode to better jump over firewalls:
on iPhone/Android: long press on CONNECT button
on Windows/Mac: Enable Shadow Mode in our app's Options (☰)
In conclusion, connecting to a VPN using Seed4.Me VPN app should be accessible and smooth, but in a few cases, some connection issues occur, you can easily fix most VPN connection issues following this article.
Always ensure that Seed4.Me VPN application is up-to-date, your internet connection is stable, and your VPN login credentials are correct. If the issue persists, contact Seed4.Me VPN Support here.
#connection Issues
#How to
#solutions