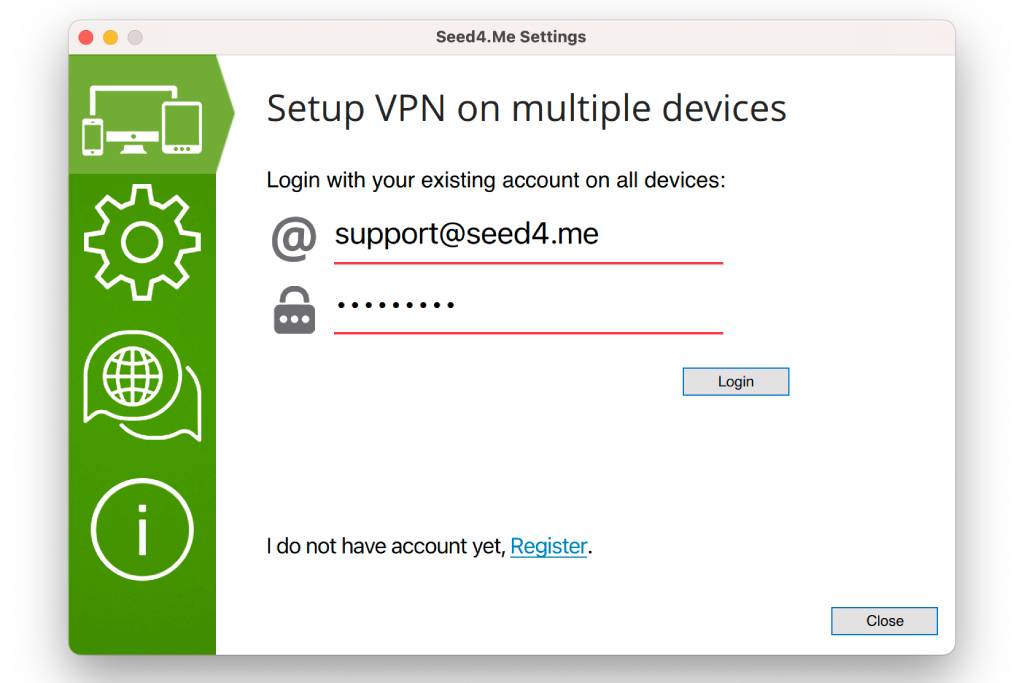 There could be several reasons why you're unable to log in to your Seed.Me VPN account on Mac, Windows computers, Android, or iPhone/iPad devices. Here are some possible solutions you can try:
1. Check your Username and Password
Make sure you are entering the correct username and password. Double-check for any typos or spelling mistakes. If you're sure and you can log in to your account with the same credentials on the website, check the next tip.
If you can't, and you forgot your password, simply request a new one here: https://seed4.me/users/resetPassword
2. Clean the Seed4.Me VPN cache files
It happens that the problem can be stored in the cache files, so try to remove all app's cache files and try logging in again. To clean the cache files of Seed4.Me VPN client, close it and follow these steps:
macOS:
Press keys "Windows"+"R" (Or press Start, open "Windows System" folder and select "Run")
Paste Folder's path below in the field and press "OK".: %LocalAppData%\Seed4Me
Delete all files in the "Seed4Me" folder.
Open Seed4.Me VPN client and try connecting to VPN again.
Windows:
Open Desktop, click on "Go" tab in the menu bar (top of the screen) and select "Go to Folder…"
Paste Folder's path below in the field: "~/Library/Preferences/Seed4Me" and press "GO".
Delete all files in the "Seed4Me" folder.
Open Seed4.Me VPN client and try connecting to VPN again.
Android:
Open settings and find Apps (or Applications, depending on your device).
Find Seed4.Me VPN App on the list and click on it.
Tap on Storage, then tap clean cache and clean app data.
Try to open the app again and login into your account.
Seed4.Me VPN is Blocked by your country?
In some countries such as China, Iran, Turkmenistan, Russia… ISPs may block VPN connections to prevent users from accessing certain websites or services. The matter may come to blocking the main server, and therefore you will not be able to open Seed4.Me VPN website or log in to your account on Seed4.Me Apps.
If it's the case, and you suspect that Seed4.Me VPN is blocked in your region, you may have to go through a few steps to bypass the ban so you can log in to your account.
Step 1:
Configure a temporary manual VPN connection on your device following one of the guides according to your device's operating system:
Replace the server address "us.seed4.me" with one of these IP addresses:
123.176.102.32
103.254.208.207
185.231.207.16
5.187.4.99
77.73.69.54
77.73.70.36
92.38.149.25
92.38.149.26
78.138.52.31
Step 2:
Open Seed4.Me VPN App and log into your account again and enable Shadow Mode to better jump over firewalls:
on iPhone/Android: Long press on CONNECT button
on Windows/Mac: Enable Shadow Mode in our app's Options (☰)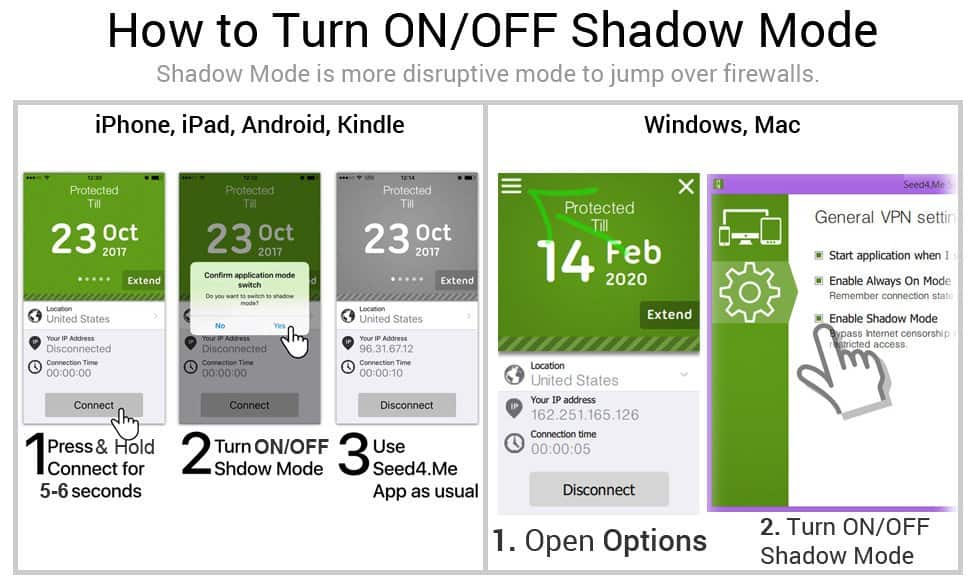 Step 3:
Disconnect from the manual VPN and use our App to connect with a simple click.
Following those 3 steps, you will able to jump over firewalls and use Seed4.Me VPN app without problems.
#How to
#Issues
#login